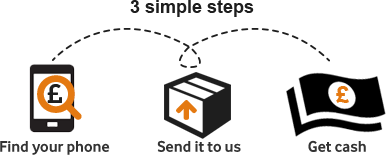 How it works?
Sell Smart For Cash – Your Phone Selling Partner
Sell Smart For Cash is here to buy your used gadgets and offer you an appropriate price for it.
1
Search your Mobile Phone
Takes few minutes to complete
You need to find your mobile phone on our web site. You will see a wide variety of mobile phones. Just select your phone model accurately. To place your order you will need to select a payment method that is convenient for you. Place your order in detail in order to eliminate the chances of delay or cancellation.
2
Get sales pack
Request a free pack or print your own labels
In order to send your phone to Sell Smart For Cash center and to ascertain that it reaches us safely you will have to request a FREE sale pack or else you can even print your own one.
3
Send Your Phone
Post us your phone / Gadgets
You will have to post your phone to us within 14 days of the date when you place your order by using our Free delivery pack or your own special delivery. Further delay might end up cancelling your order.
4
Get Paid Same Day
Same day we receive your phone
We will pay Fast, Same day we receive your device Do not worry about the payments. You will get your payment on the same date we receive your parcel. However, we will thoroughly check your phone as well as your order details before sending you its payment.