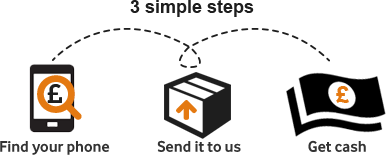 How to Post ?
After registering the Sale you will get a Free Delivery Pack along with instructions how to Pack and post your phone. You can also get all information in your account by visiting your account area of the website.
1
Pack your phone
Pack your mobile phone safely.
To make it safe you just need to pack your phones in either a jiffy bag or a padded envelop. Don't forget to add your order number with it so it remains safe to be delivered.
2
Post to us
Use Free Delivery or Special Delivery
You can send your Mobile phones to us through many ways.
1. The best option for post a phone is a special delivery that is safe secure and cover insurance up to £500.00
2. If you want to send it through a Free packet post, please request it we will send you a free sales pack that you can use to send free post to us.
3. You can also personally drop your phone to us at Sell Smart For Cash, See address on contact us page.
3
Get Confirmation
Confirmation of phone received
For your peace of mind we will send you a confirmation email as soon as we will receive your phone.